ACH Universal emails appear to be going out, but are not received by the recipient
Problem

When the user sends emails in ACH Universal, the emails appear to be successfully sent out, however, the recipients do not receive them.

Solution

Change the email sending mechanism in the Treasury Software email settings from "Beta" to "Classic", then try again.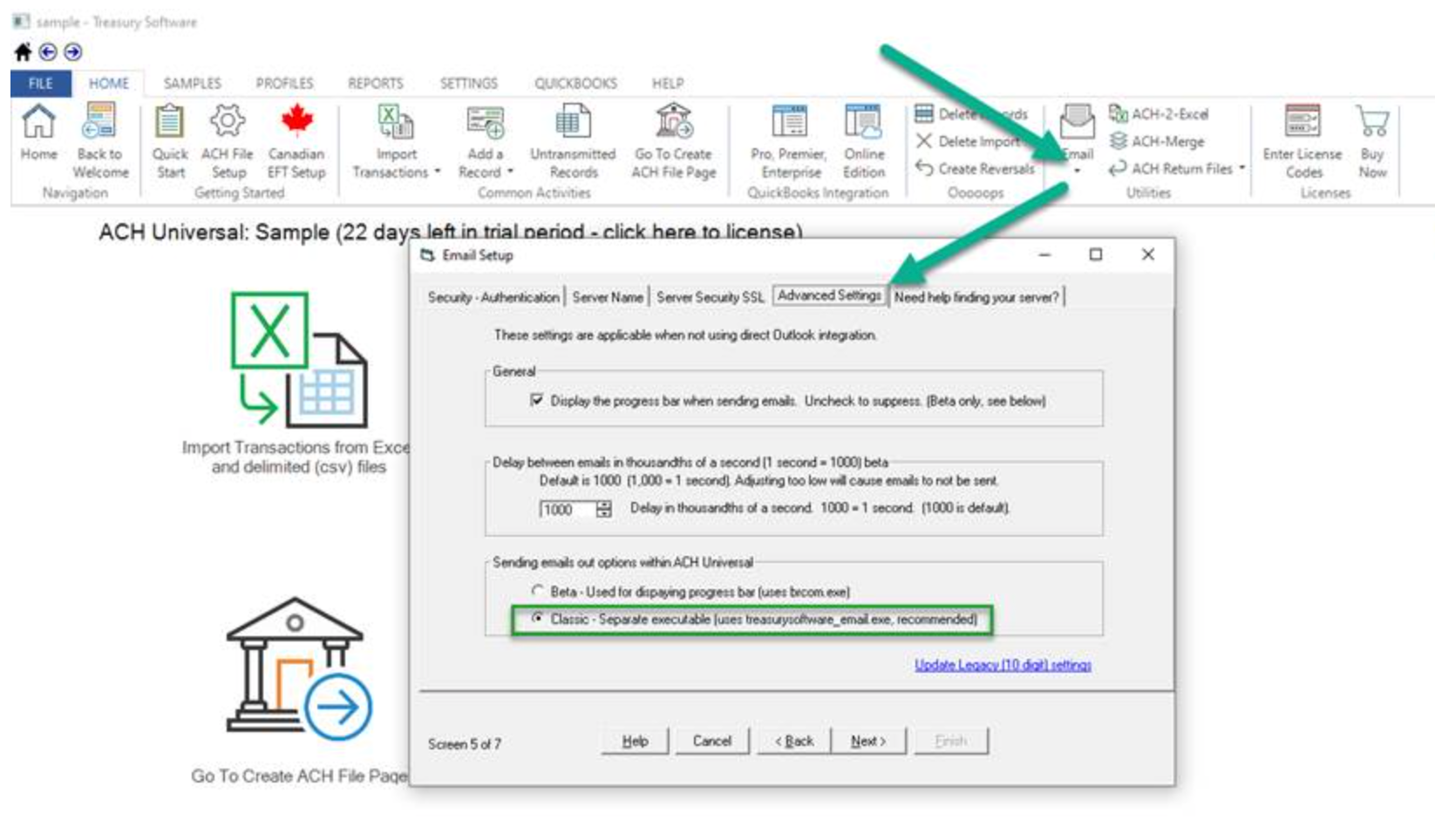 Related Articles

QuickBooks Print or Email Size Incorrect

Problem When one or more users try to email an invoice, receipt, order or any other document from QuickBooks it has the wrong paper size, format, orientation, etc. OR When a user tries to print they see the message "Intuit Printer Library Message: ...

QuickBooks is unable to send emails due to network connection failure

Issue QuickBooks is unable to send emails due to network connection failure, you receive this message when trying to send a single or multiple emails in QuickBooks from File --> Send Form Why is this issue happening? This issue could have multiple ...

Sage 100 2018 or Older cannot send emails via Office 365 or need to try it multiple times

Issue You are trying to send emails from Sage 100 2018 or older version using Office 365 SMTP Server and are unable to send emails, or you have to retry the email a few times for it to go through. When you look at the "Error During Electronic ...

Trouble sending emails from QuickBooks

Description Not able to send emails from QuickBooks, it used to work in past. The user has not changed the password and none of the server settings has changed Why is this happening At times QuickBook needs the email settings to be refreshed. Remove ...

Bank feed issue System.TypeInitializationException

Issue When you try to access Bank Feed or perform a task that is related to Bank Feed you get a pop up similar to the one below. System.TypeInitializationException: The type initializer for 'OLB_Center.WPF.Model.FIBluePrintParser' threw an exception. ...