While we cannot provide example for every available product integration, most products follow the same general steps:

Quickbooks Web Connector: (TSheets Example)

STEP 1: Download QWC and Password from Vendor

You need to login to get the Web Connector File (.QWC) and the password from the vendor

For TSheets (Pre version QB 2017) here are the steps

Login to TSheets web site, in the left menu, go to SET UP › Add-ons

In the list, find QuickBooks Desktop Integration , and click Install

In Step 1: Select the Options window, make your selections, and click Next


If a warning window displays, read the warning, and, if you agree, type delete , and click Continue


In Step 2: Set Up Web Connector window: Click Advanced/Manual Setup

Click the blue web_connector link, and open the downloaded file.

In the security window, click OK

In the next security window, select Yes, whenever this QuickBooks company file is open › Continue

Make sure that the TSheets application is selected.

In the TSheets Set Up Web Connector window, locate the password. And click on WEB CONNECTOR FILE (.qwc). This will download the file, save this file to your FileBridge Drive.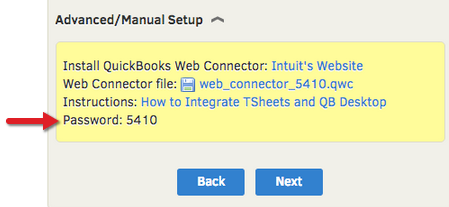 STEP 2: Add the QWC to the Intuit WebConnector

Launch QuickBooks Desktop from your AppDashboard

Open the QuickBooks Desktop company file that you want to integrate with TSheets, and sign in as the "Admin" user (could be renamed) and in Single User mode.

Click on File -> Update Web Services

If you get a QBWebconnector - Information, click OK


Click on Add an application


Select the qwc file that was saved to FileBridge and click OK

An "Authorize New Web Service" prompt will pop up. Click OK



In the next window, select the appropriate options such as run this application if QuickBooks file is opened or closed

Check the box to the left of the TSheets application, enter the four-digit password that you noted down in the first step which is displayed in the yellow window up, and click Update Selected

Proprietary Integration

The Integration for proprietary connectors happens by downloading a special utility from your publisher's portal.

Upon running the installer the integration may happen in one of two scenarios:

During the installation, the installer will ask to point to a Quickbooks company file, or to use a currently open company file.

After the installation, a Quickbooks Integration section or menu will exist to allow the integration process to be setup.

In both cases, the integration process will pop up with a certificate to authorize the third-party app to communicate with your Quickbooks company file.


Remember to be logged in as "Admin" and in Single-User mode to perform the integration. This needs to be performed only once by the Admin user.