QuickBooks Print or Email Size Incorrect
Problem
When one or more users try to email an invoice, receipt, order or any other document from QuickBooks it has the wrong paper size, format, orientation, etc.
When a user tries to print they see the message "Intuit Printer Library Message: The form you are about to print does not fit on the page. You may wish to modify your print settings such as portrait/landscape. Click OK to print anyways, or Cancel to skip printing this form."
What causes this?
When QuickBooks prints or emails a document it uses the Page setup of the PRINTER that is defined for that particular form. It IGNORES the page setup that is specifically defined for that form in (LIST -> Templates -> TEMPLATE Name -> Additional Customization -> Print ) or it fails to read the paper size of the default printer
In QuickBooks, each user can select a printer for each of the Forms, When a wrong paper size or the incorrect printer is selected for that particular Form, it causes this issue.

How to fix it?
In this example, we are going to use the INVOICE example.
Method 1

Go to LIST -> Templates -> Double click on the template you using

Click on Additional Customization at the bottom then click on Print

Use the option "Use specified printer settings below for this invoice"


Set the orientation as you like then click on OK and then OK again


Log out of QuickBooks and log back in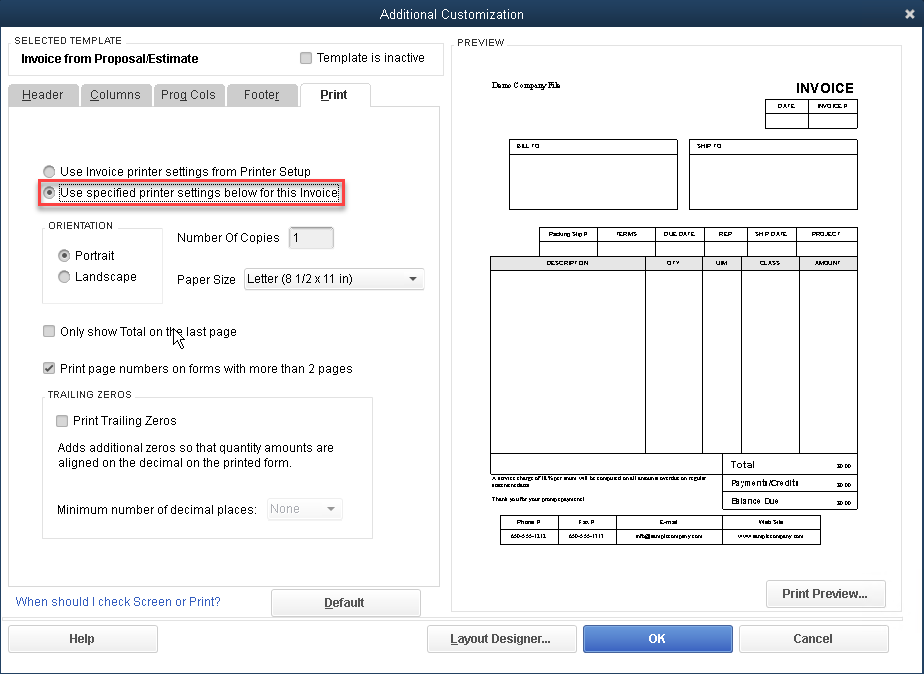 If the above method doesn't work please follow the steps in Method 2
Method 2

Close any forms or templates that you have opened in QuickBooks, The best approach is to log out of QuickBooks and log back in.

In QuickBooks go to File -> Printer Setup -> Select the Form with which you are having issues ( We selected INVOICE in this example)

Select the correct printer which has the correct paper size.

You can check the paper size by clicking on OPTIONS.


Now when you email or print it should have the correct Page size, orientation, etc
How to verify if it will work?
After you have selected the printer with the correct page setup go to
(LIST -> Templates -> Invoice -> Additional Customization -> Print Preview, and this should NOT prompt the below message
If you still see this message try to select another printer and try again


Related Articles

QuickBooks is unable to send emails due to network connection failure

Issue QuickBooks is unable to send emails due to network connection failure, you receive this message when trying to send a single or multiple emails in QuickBooks from File --> Send Form Why is this issue happening? This issue could have multiple ...

Emailing from QuickBooks, Sage, Misys and other Applications

General Guidelines gotomyerp has tight security around all incoming and outgoing traffic, and will require a request from all clients with pertinent information, to allow email traffic through the firewall. Please note that by default, ports 587 is ...

Manage Quickbooks QWC and third-party integrations

Summary In this article, you will learn how to perform some basic management of Quickbooks Integrated apps. (QWC and third party) This will include How to add a new integration (with a QWC or proprietary Sync App) How to remove an existing integrated ...

QuickBooks Desktop Statement Writer Error

Description When you are trying to open an existing QuickBooks Desktop Statement you get an error "Microsoft Office Document Customization" as or you do not see the "Document Actions" section in hosted MS - Excel OR Why is this issue happening It ...

QuickBooks Problem connecting Error Code : OL-393 / OL-301

Error When you try to do a bank feed or process a payment you get a message similar to the one below with bank name and number Fix The issue you are facing is due to your account bank or an issue with bank. You will need to call the bank the number ...