Receiving "The Remote Desktop Service ActiveX control (mstscax.dll) does not match the version of the client shell." error on application launch attempt
Summary

When attempting to launch your RemoteApp (either from the AppDashboard, or the Web Portal), you receive the following error message:



Latest Update: 02/14/2023

Windows 11:
[PATCH RELEASED / RESOLVED]
A patch from Microsoft has now been released. The KB reference has changed since the internal release, and it is now included in the following KB:
KB5022360
(Which is an optional preview)
As of 02/14/2023,
KB5022845
has been released, which will install as part of the regular Windows updates. Users who are facing an issue, should make sure to apply all available Windows Updates are installed, which should include KB5022845, and the issue will be resolved.
Cause

This message happens if you had previously applied a patch for the
22H2 Bug
and then applied additional Windows updates after installing the patch. This renders some file versions mismatched in their version which causes this error.
Solution

We have created an update version of the FixMSTSC utility which restores the original files, and applies a less intrusive workaround.

You may download this patch by clicking below. You must run this utility as Administrator, by right-clicking then select "Run As Administrator". If your computer is locked down, you may require your IT department's assistance to run this utility.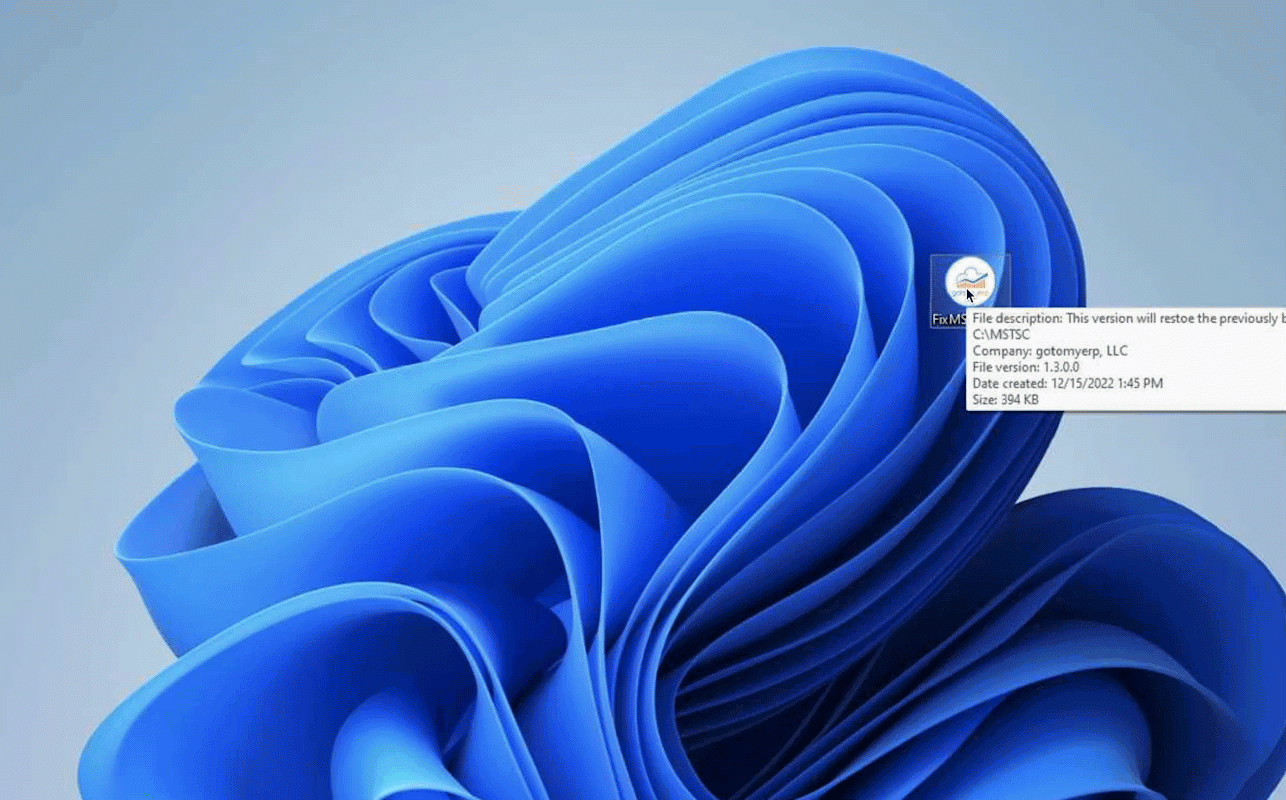 Reference

You can read more about the workaround, and how to restore your settings when Microsoft releases the permanent HotFix for this issue in the fourth week of January 2023.

Related Articles

Error: Unable to display RD Web Access

Problem: In certain instance, users would receive the following error when launching the gotomyerp portal with Internet Explorer Reason: Unless this is happening for all users, this issue is caused by the workstation itself: usually an Internet ...

How to find the application portal from the Microsoft Remote Desktop Client on the Mac

To find your gotomyerp Application Portal web address, please do the following: Open your Microsoft Remote Desktop client on your Mac. Click on the "Pencil" icon to edit your collection Enter the URL observed on the first line of the "Workspace URL" ...

Addressing "Remote Desktop Connection has stopped working" message

Problem: When launching a RemoteApp from the application portal, the following (or a similar window) pops up, and as a result the RemoteApp does not launch. Reason: This problem can be due to a number of reasons that are related to the workstation, ...

Mac Remote Desktop Client Upgrade from v8.x to v10.x

Microsoft has recently released a new client for Mac, version 10.0 If you are reading this article, you are likely still running the old client, and are looking to upgrade to the new one. You might have also received a yellow banner on your existing ...

Another user of your computer is currently using this connection. This user must disconnect before you can login.

If you were logged in to your workstation with a previous user. you might receive a message stating that another user is already logged in. To resolve, simply click on the Remote Desktop in your task tray on the bottom right of your screen, and ...