AppDashboard remote apps not showing up on first launch
Problem

When first setting up the AppDashboard, the FileBridge drive shows up, but the apps are not visible.
Solution

Click on the

Click on

Enter your company info and credentials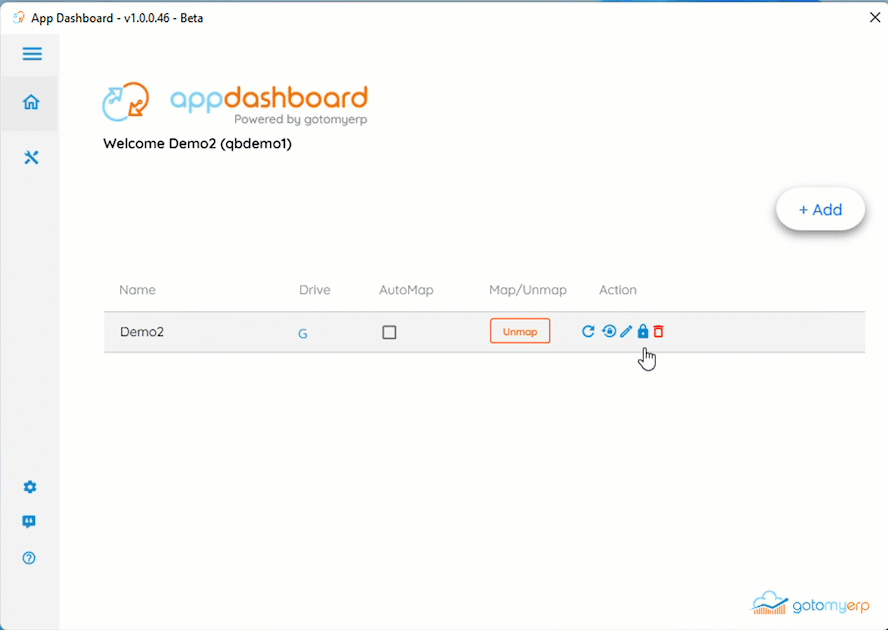 Related Articles

Second Credential Prompt on AppDashboard

Summary A user is presented with another login credential prompt when launching an app. Cause In most cases, this issue happens if your computer was left on overnight, and your connection to the hosted server times out, requiring additional ...

AppDashboard Release Notes

The gotomyerp AppDashboard is the new generation of your access to the gotomyerp services. Removing browser dependencies altogether with a clean, elegant and simple user experience that provides access to hosted application, FileBridge, and account ...

How to reconfigure your AppDashboard after a company rename

In the event that your company name has changed, gotomyerp will make some back-end changes which will require you to make a configuration adjustment to connect using the new company name. If you are requesting a name change for your company, and the ...

Refresh in AppDashboard

Where is the refresh button in AppDashboard The refresh button is located under the "Actions" section of AppDashboard. Its highlighted in the below image.

How do I login to my account for the first time or after a password reset?

Are you a Mac User? Please see this article for appropriate instructions. AppDashboard Method If you are logging in for the first time on the AppDashboard, launch the application, then enter: Your Company Name: (Must be spelled exactly as it is on ...